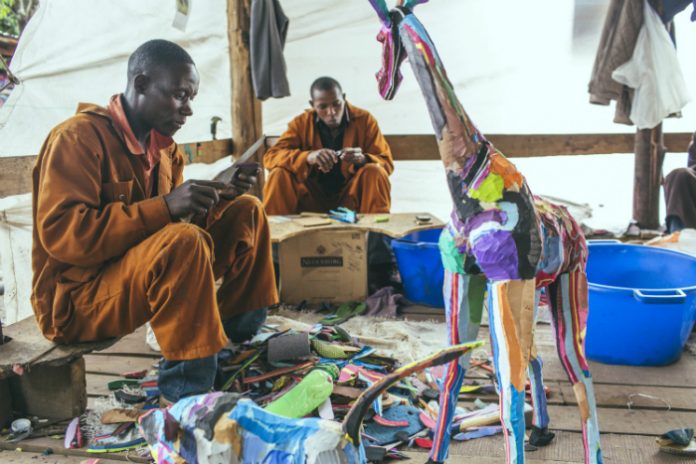 https://www.mnn.com/lifestyle/arts-culture/stories/kenyan-company-turns-flip-flops-into-fine-art
"As a bizarre and yet very real phenomenon, thousands and thousands of flip-flops are washed up onto the East African coast creating an environmental disaster. Not only spoiling the natural beauty of our beaches and oceans, the rubber soles are swallowed & suffocated on by fish & other animals, they obstruct turtle hatchlings from reaching the sea and are a man-made menace to our fragile ecosystems," states Ocean Sole.
The company collects the flip-flops — including paying people who bring in what they've collected — and transforms them into art while providing a livelihood for local people. Providing a living for the artists who work for Ocean Sole is just as important to the company as its environmental message.
The company is all about cleaning up pollution, and that extends to their zero-waste policy. The waste from the sculptures is collected and used as flooring for kids' playgrounds, and they even collect rainwater to use in their production. Other materials needed for the sculptures and packaging are also recycled goods, including buying rubber off-cuts from shoe companies, buying recycled beads from local suppliers, and buying used netting to use as packaging.
Analysis: This article shows a creative way to reuse old flipflops, keeping them out of our ocean and out of landfills. It shows how there can always be another creative use for our worn-out shoes.