by Laurie J. Wilson | Blue Ocean Network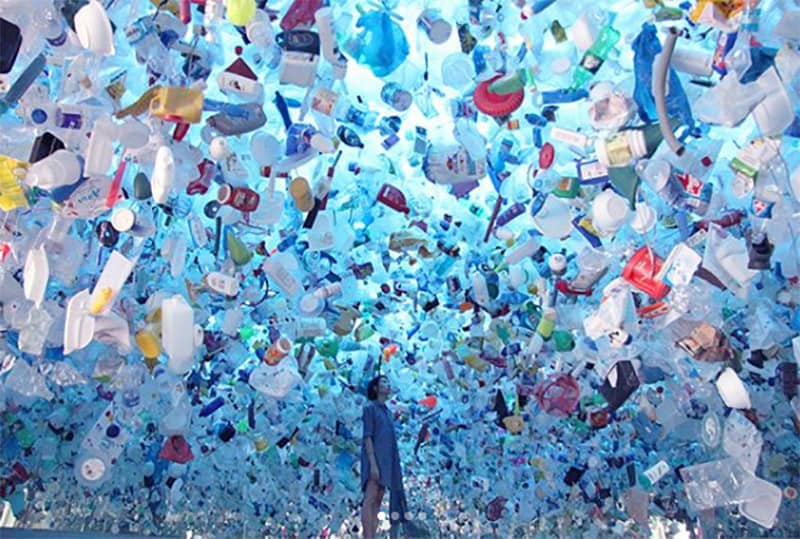 Under the Water, Over the Sea
A stunning interactive art installation by Singaporean artist Tan Zi Xi debuted in 2016 in the Singapore Art Museum's Imaginarium: Under the Water, Over the Sea, shifted people's consciousness about how they viewed, engaged and impacted the ocean.
SAM's children-focused Imaginarium themed exhibition invited adventurers of all ages into our watery realms through tactile and interactive works that encouraged discovery through exploration and play. The goal of Xi's 3d artwork, "Plastic Ocean" was to open the eyes of Singapore's communities to the amount of plastic we are throwing away, and how we are polluting the ocean.
"I wanted to recreate a physical manifestation of the Pacific Garbage Patch, where children and adults could experience being immersed in a space covered with trash, simulating the environment of the 'plastic pool," says Xi.
An Unsustainable Culture of Convenience
"When we start to study and be conscious of our waste, it will hit home just how unsustainable our culture of convenience is. This revelation is life-changing," Xi said.
'Plastic Ocean' has since exhibited at the Sassoon Dock Art Project as a part of St+art Mumbai Urban Art Festival, 2017. Says Tan, "Since the completion of 'Plastic Ocean', many locals have started sharing their views and stories of how plastics have destroyed their surrounding environment, with beaches stinking and littered with plastic."
Plastic Ocean shows once again that "immersive" 3D art can attract new people into the conversation, shift perspectives and convey environmental messages that directly impact people via their own first-hand experience.
This piece was particularly interesting because the creator was able to create an immersive experience with their art that could change peoples mindset on their everyday habits. I liked that they were able to provide another way to look at the world from a new point of view. It allows viewers to emotionally connect with ocean life, seeing how our world and theirs collide, not in a good way.