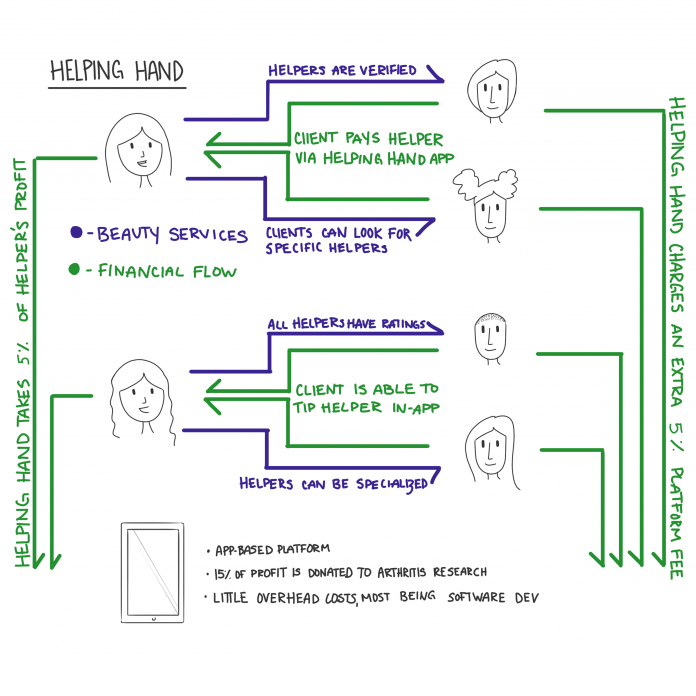 Helping Hand is an app-based platform concept which seeks to connect able-bodied individuals who enjoy cosmetics and helping others with individuals with upper body mobility impairments, such as arthritis, who need assistance doing their hair and putting makeup on. Additional benefits of Helping Hand would include the potential to create a sense of community within neighborhoods.
This system is a service-based business and would work similarly to Airbnb or Amazon. Helping Hand would charge both users and Helpers a small, 5% fee for utilizing the platform. This fee would go toward paying the minimal overhead costs Helping Hand would have, such as software development. The remaining revenue would be profit, with 20% of the profit going toward arthritis research. Users would also have the ability to tip their Helper if they experienced exceptional service—all tips would go directly to the Helper.
In order to become a Helper, individuals would need to submit a valid ID. A thorough background check would be administered, and if there were any felonies on the applicant's record, they would be unable to become a Helper. All users would be advised to have a friend or family member present while utilizing Helping Hand—especially if they are having a new Helper come over. Additionally, anyone who uses the app—clients—would be able to rate the Helper after their session. This rating system would keep helpers accountable for their actions and help users sort out potential matches. Additional features would include the ability for Helpers to proclaim "specializations" in a beauty area. For example, a Helper could declare themselves a hair specialist. If users liked a specific Helper, they would be able to save the helper's profile to be able to reschedule anytime in the future.