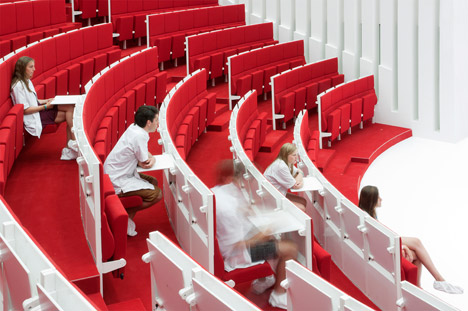 Jessica Mairs
The Education Center forms part of the Erasmus Medical Center in Rotterdam – a teaching hospital originally designed in 1965 by Dutch architect Arie Hagoort in collaboration with iconic French designer Jean Prouvé. It was recently extended by EGM Architecten.
The brief to Rotterdam-based Kaan Architecten was to unite teaching, research and patient-care facilities under one roof. Their response was to create a space that centres around a triple-height atrium, including a library, two elevated lecture theatres, a cafe and offices.
"The Education Center is part of an imposing medical city, a post-war concrete jungle shaped by pragmatism and cost-cut," said Vroegindeweij. "I was surprised to come across this oasis of humanism and softness, at the very heart of it."

This business style examines how a hospital can also be a hub for more than just medicine. It combines office areas, cafes, study spaces, and communal seating for a variety of users. This model encourages a systematic approach to their research community and could potentially be used as an inspiration for hospital recovery areas.